As a business, it's crucial to stay ahead of the game. A strong brand and great products simply aren't enough; you need a little something extra to make you stand out. Guest Wi-Fi can help you do that.
If you have yet to discover guest Wi-Fi (and Wi-Fi Marketing), this blog is for you. 
Wi-Fi Marketing – An Overview
Guest Wi-Fi is a complete game-changer for almost any business. When shoppers/diners log into a guest Wi-Fi network, the business can improve their in-store experience by sending coupons, personalized ads or other communications while they are in (or even simply close to) the establishment. It gives retail stores, restaurants and the like the ability to communicate with customers and patrons in real-time and deploy a variety of targeted marketing initiatives while these customers are accessing the in-store wireless network.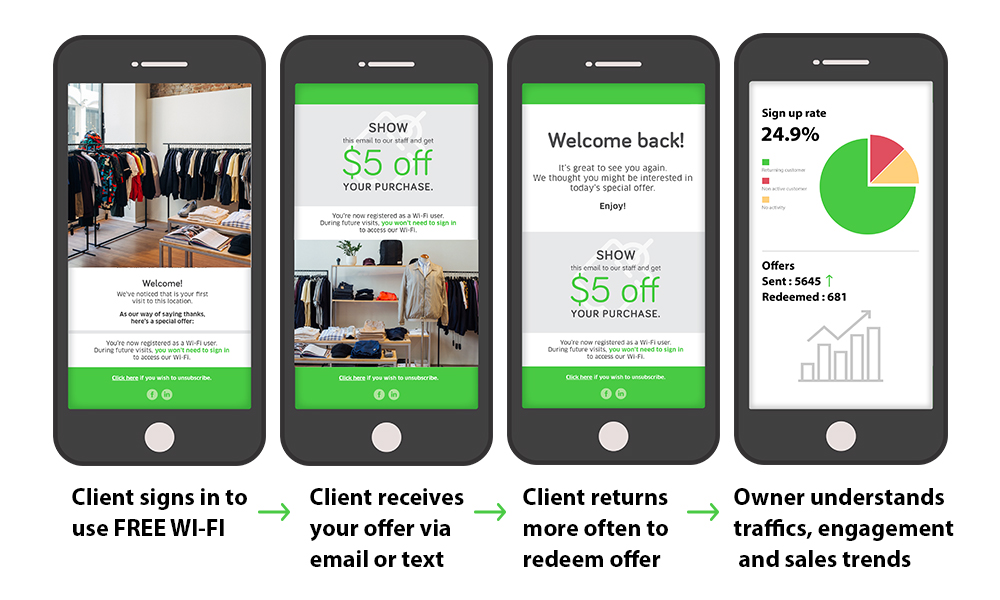 This, in a nutshell, is Wi-Fi Marketing! Let's take a closer look at this little gem that is Wi-Fi Marketing.
Benefits of Wi-Fi Marketing
Wi-Fi marketing in a restaurant or retail environment offers very distinct advantages to both customers and businesses.
Investing in Your Customers With Wi-Fi
From a customer's perspective, being able to access free Wi-Fi in one's venue of choice is extremely attractive and tremendously convenient. Which is why consumers are more than happy to provide a little personal information in exchange for something of value.
According to Cisco, 96% of customers prefer shopping at stores that offer free Wi-Fi. They're also more likely to be repeat customers of these businesses. Even more telling is a survey by Small Business Trends that reports that one in 10 customers admits they will leave a venue that doesn't offer free Wi-Fi. 
Grow Your Business With Wi-Fi Marketing
From the retailer's perspective, one of the primary advantages of Wi-Fi is that it automates marketing. Wi-Fi lets you deploy your targeted marketing initiatives the very moment a customer or guest logs onto your wireless hotspot – even before they enter your venue.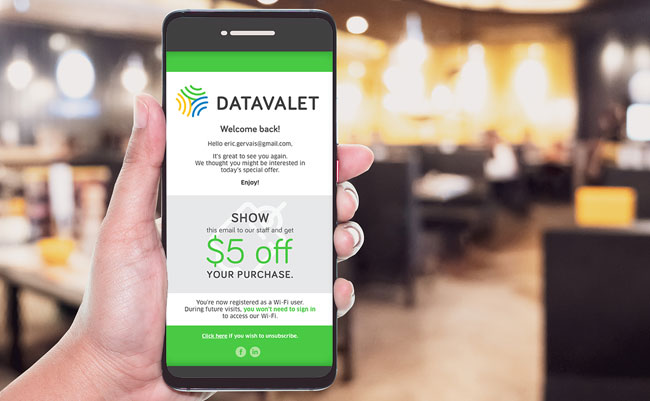 Wi-Fi Marketing can be an invaluable tool for capturing a potential customer's attention – and for instantly promoting deals, loyalty programs and upcoming events!
Free guest Wi-Fi also allows restaurants and other businesses to gain a better understanding of not only their general customer base, but also of individual clients. These insights are extremely valuable because they can inform your overall marketing strategy and help you develop targeted initiatives to enhance the customer's on-site experience. This allows you not only to maintain your customer base, but to diversify and grow it as well.
Wi-Fi Marketing Can Also Be Used to Promote Products, Launch Campaigns and More
Wi-Fi marketing is being increasingly used in a number of industries, particularly in the restaurant, café and bar sector. Modern Restaurant Management lists Wi-Fi Marketing as one of the Top Five Marketing Trends for 2019 – with good cause. In an increasingly connected world, Wi-Fi marketing gives restauranteurs direct access to their customers while they are on-site, enabling them to easily promote their brand or products, offer promotions and discounts, or launch campaigns.
And the benefits don't stop there. Once your customer leaves the venue, you can continue to engage with them with other personalized marketing initiatives.
Wi-Fi marketing goes above and beyond the traditional marketing route and allows businesses to directly interact with customers, adjusting their aim as needed, as opposed to relying on a static marketing approach.
Yet another benefit of Wi-Fi marketing for restaurants and smaller retailers? Being able to promote a product, sale or event to a wide audience with relatively low associated costs. Wi-Fi marketing is extremely cost-effective and can help level out the playing field for smaller businesses that don't have the same hefty marketing budgets as larger retailers and restaurant chains. 
Wi-Fi marketing allows restaurants and retail businesses to understand and influence their customers with relatively low costs. If your business is still not offering free guest Wi-Fi, it's probably losing customers to competitors that do. Contact Datavalet today to find out how we can help you grow your business with our range of managed Wi-Fi services.