There are numerous distributed organizations  with dozens, hundreds or even thousands of remote locations, venues, branches, or sites reporting to one or more regional offices and central headquarters. In many cases, these remote locations operate like small businesses, which is typically the case with franchise systems such as McDonald's or MD Now Urgent Care in the USA. The relationship between a centralized entity and many decentralized business locations is especially common in the retail, restaurant, medical, and financial industries and leads to very specific IT and Wi-Fi requirements.
Distributed Enterprises Statistics
As shown in the figure below, even if the majority of firms only own or operate one single establishment (Location), large firms with more than 10 establishments each tend to operate between 15 and 50 locations depending on the sector. Our focus here is a highly concentrated set of sectors where distributed enterprises represent a great proportion of physical locations, and that has great implications on IT and Wi-Fi requirements.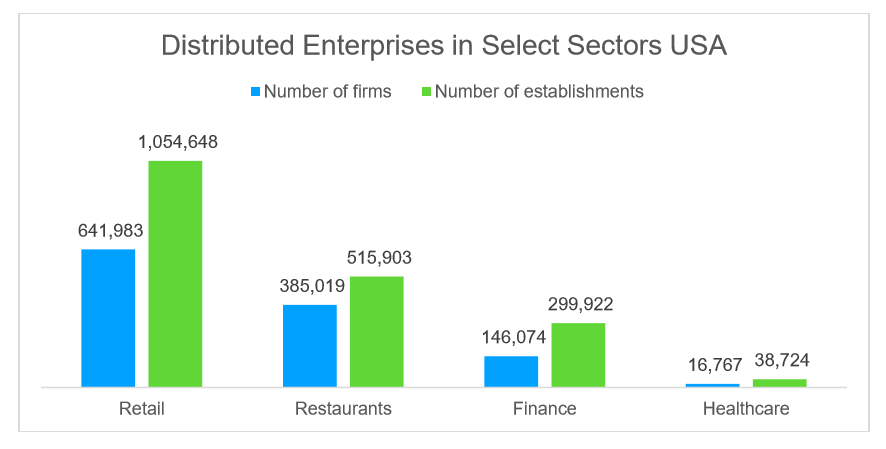 Businesses use public / guest Wi-Fi to improve their customer experience and drive loyalty, while private Wi-Fi enhances employee and operational productivity. Managing and securing a private Wi-Fi network while also enabling Wi-Fi with quality end-user experience requires substantial attention and resources to implement and maintain, especially on a large scale.
Understanding Multi-Location Enterprise Wireless Needs
Distributed enterprises are complex organizations with complex networks composed of many parts, from access points to firewalls to industry-related software and applications. Managing Wi-Fi infrastructure in a distributed enterprise can quickly overwhelm IT teams already strained with managing the growing demands of the various stakeholders in the enterprise.
IT teams are often under-staffed and not sufficiently equipped to deal with the rapid pace of change in equipment, upgrades, protocols, firmware and software patches, security signatures and the numerous issues arising from managing so many different RF environments, including maintaining service level requirements at all times. Outsourcing Wi-Fi to an experienced and trusted Managed Service Provider (MSP) makes business sense as it provides many benefits, some of which are presented in the figure below: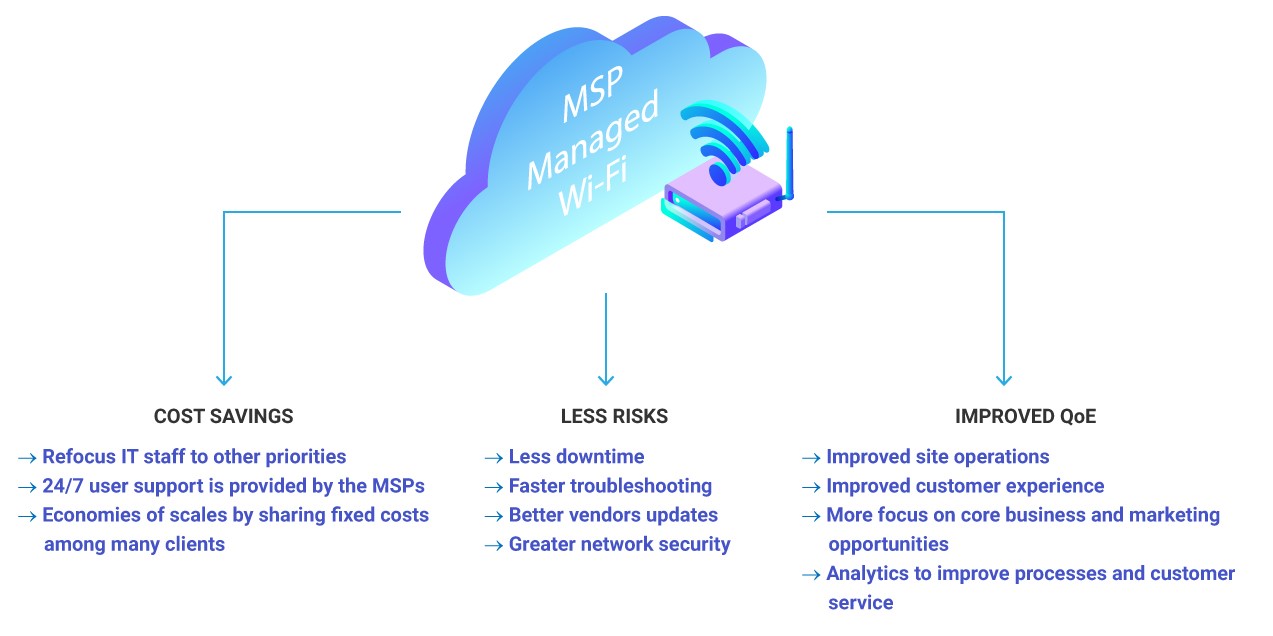 The Economics of Managed Wi-Fi
When enterprises are distributed across hundreds or thousands of sites, managing the corresponding number of networks, staff and various parts can quickly become a nightmare that is both expensive and far outside of the enterprise's core expertise.
The more locations a distributed enterprise has, the more economic sense it makes to resort to a managed Wi-Fi service because the cost of servicing a spread-out wireless infrastructure would be counterproductive. Indeed, it would be too expensive to maintain an equipment inventory or a fully trained staff at each location and the cost of moving them around hundreds or thousands of locations is prohibitive – whereas a centralized MSP can leverage expertise and economies of scale across several customers as shown in the graph below: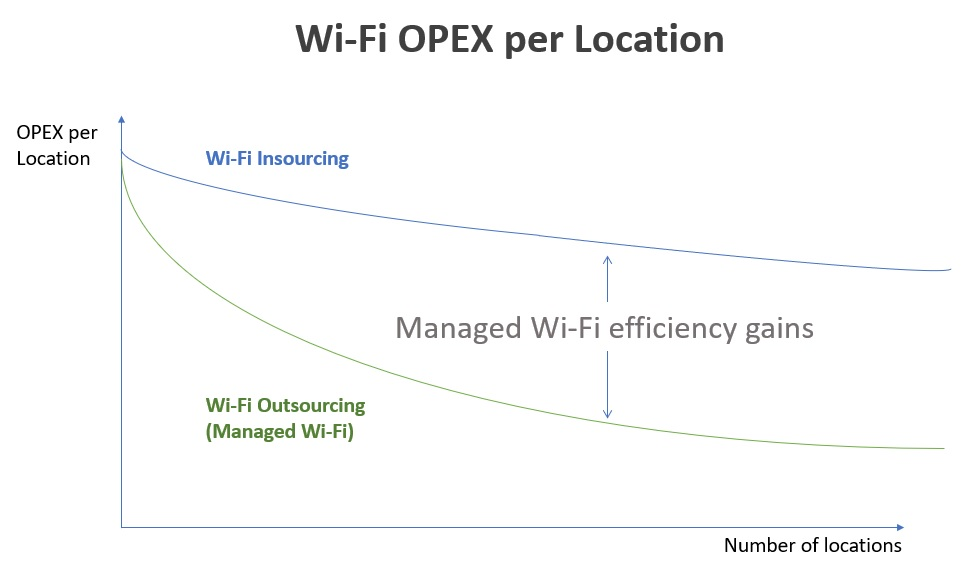 Centralizing Management
Most businesses today offer different access privileges to well-defined categories of stakeholders. There will be guest Wi-Fi for visitors, customers or even contractors while staff access may also be configured to enable limited access to less secure BYODs and higher level of access to senior staff or certain types of devices. With so many possible levels of access, managing and enforcing policy and authentication can become a daunting task as the number of sites increases. Thus, centralizing clear policy control will save businesses downtime and troubleshooting, while improving security.
In the same vein, centralizing user data into a robust analytics platform will help these enterprises generate detailed insights, reports and data to feed their sales and marketing systems and help generate new revenues. Better customer insights should translate into better and more timely sales and marketing practices which can improve the bottom line.
Security in the Distributed Enterprise
Network security is becoming increasingly complex with the emergence of attacks from DDOS to man-in-the-middle. Everyone recognizes the importance of staying on top of security best practices. However, threats have evolved in the last few years and now enter enterprise networks through content-based applications like email and web browsers. With BYOD becoming the norm and IoT emerging, the risk of corporate breaches from cyber threats is high. MSPs come into play as securing Wi-Fi involves scanning for malware, preventing access to malicious websites, endpoint integrity checking, and controlling application usage from a centralized location. MSPs ensure the right balance between the need for security with the flexibility of allowing any devices onto the network to meet the business goals.
Conclusion
Multi-location enterprises of all sizes can greatly benefit from centralized management of Wi-Fi access, analytics, security and infrastructure monitoring. MSPs have the advantage of providing the best practices in the industry, managing vendors when they need to resolve issues, providing ongoing support, monitoring and maintenance to ensure Wi-Fi networks are operating at their best. Distributed enterprises should consider outsourcing their Wi-Fi networks to benefit from lower costs, less downtime and a better quality of experience for both their staff and customers.
Related articles: