Brick and mortar retailers and restaurants are facing tremendous competition from online giants while having to adapt to fast-changing customer needs quickly. The rapidly expanding ownership of smartphones and other handheld devices is revolutionizing the retail and restaurant industries, and consumers are increasingly relying on Wi-Fi as part of their digital journey and purchasing decision process. Such a WLAN (Wireless LAN) network must be right-sized, secure, ubiquitous, and support BYOD (Bring your own device) for both employees and guests with specific access rights for each category.
In the restaurant and retail spaces, leveraging Wi-Fi to engage customers and monetize IT infrastructure are becoming important parts of their commercial strategy. This raises the importance of being able to ensure the reliability of Wi-Fi networks for dependable data, allowing the collection of customer data. In turn, well-managed Wi-Fi enables the collected data to be made relevant and translated into actionable insights and tangible business outcomes.
However, many IT teams are having a challenging time coping with the pace of change, the increase in technological complexity and their internal customers' demands. Diversity and proliferation of devices, the range of operating systems, security threats, new business requirements, technology lifecycle, and upcoming IoT, all represent considerable challenges for understaffed IT departments who are struggling to keep up. Thus, retailers and restaurants are increasingly resolving to outsource the complete management of their Wi-Fi access and infrastructure to service specialists in order to refocus their attention on managing their core business.
But what does Wi-Fi infrastructure outsourcing entail?
What is Managed Wi-Fi
"Managed Wi-Fi Solutions are associated with designing, configuring, monitoring, supporting, maintaining the performance health and ensuring the evolution of a given Wi-Fi environment."
Robert Soussa. Managing Partner, Business Development
Wi-Fi infrastructure may consist of all or some of the following elements:
Access points

, repeaters, extenders
Controllers
Switches
Hubs
Gateways
Cables, racks, A/C, etc.
Of course, the network includes all PCs, workstations, printers, screens, digital displays, projectors and peripherals, as well as security cameras and mobile devices roaming in and around shops and restaurants. Even if we don't yet include emerging IoT devices, there are already many such devices to onboard, manage and secure!
Managing Wi-Fi access and infrastructure properly, therefore, calls on a considerable number of business and technical resources that may be actively engaged elsewhere in the organization. These resources include expensive IT staff who need to stay on top of fast-evolving Wi-Fi industry standards, best practices and ever-changing security threats.
IT staff must also keep up-to-date with infrastructure vendors' software updates and firmware patches and be cued into any new potential security threats. They must also learn to navigate all new applications before their release and be aware of any and all new features in order to protect the current infrastructure investment. They must also manage the infrastructure lifecycle, consider how best to address any legacy technology which may be slowing down the network, and plan the introduction of new standards such as IEEE 802.11 ax or the latest security feature WPA3 from the Wi-Fi Alliance.
Further, IT staff must respond to the ever-changing business environment, which may include:
Physical moves in the office space
Introduction of new technologies which may cause interference or capacity crunch
New user profiles and access rights
When an incident occurs, the in-house IT team will also be responsible for troubleshooting, ensuring incidents are resolved rapidly and that appropriate adjustments are made when necessary. These activities include:
Single Source Ticketing
User Helpdesk
Proactive Monitoring
Technical Troubleshooting
Hardware Life-cycle
User Satisfaction
If hardware must be replaced quickly, the business should then plan for available resources to repair or replace including:
Spare parts and hardware management
Depot strategy
Dispatch of break fix
Return material authorization (RMA)
Considering the sheer volume of tasks, businesses should carefully evaluate whether it is best to continue performing complex IT functions internally or to instead offload some or all of these tasks to an outside specialist. The questions to consider include:
Do I have the time and resources to learn and implement the myriad information and technologies required?
Do these tasks distract my IT team from supporting my core business?
Is time better spent on rapid deployment to meet business objectives or on learning the services to meet these objectives?
For a better ROI, is it best to deploy immediately or learn to implement?
Will I have to build the solution and maintain it either by training an existing team or hiring a new team?
Why should you consider managed Wi-Fi solutions?
Brick-and-mortar retailers that are best equipped to engage shoppers and patrons on their smartphones, thus providing a tailored user experience, are emerging as the big winners. As such, Wi-Fi represents a great opportunity for these businesses to compete with online retailers provided their Wi-Fi infrastructure is properly managed and optimized. However, managing a Wi-Fi infrastructure represents a large commitment in terms of resources for these organizations, and so the case for outsourcing Wi-Fi management is fast becoming a competitive imperative.
In fact, there is now a cultural shift towards retailers and restaurants using cloud-based services as part of their digital transformation. Software as a service, IT as a service, networking as a service, and, more recently, wireless as a service are now reshaping IT and organizational networks, from planning, purchasing and operations to the entire lifecycle of IT investments.
The more locations a chain of restaurants or retailers has, the more economic sense it makes to partner with a managed Wi-Fi service provider, because the cost of servicing a spread-out wireless infrastructure would be counterproductive. Indeed, it would be too expensive to maintain an equipment inventory or a fully trained staff at each location, and the cost of moving them around hundreds or thousands of locations would also be prohibitive. However, a centralized Managed Service Provider (MSP) can benefit from economies of scale by spreading out fixed costs among several of its customers. The graph below outlines this core competitive advantage: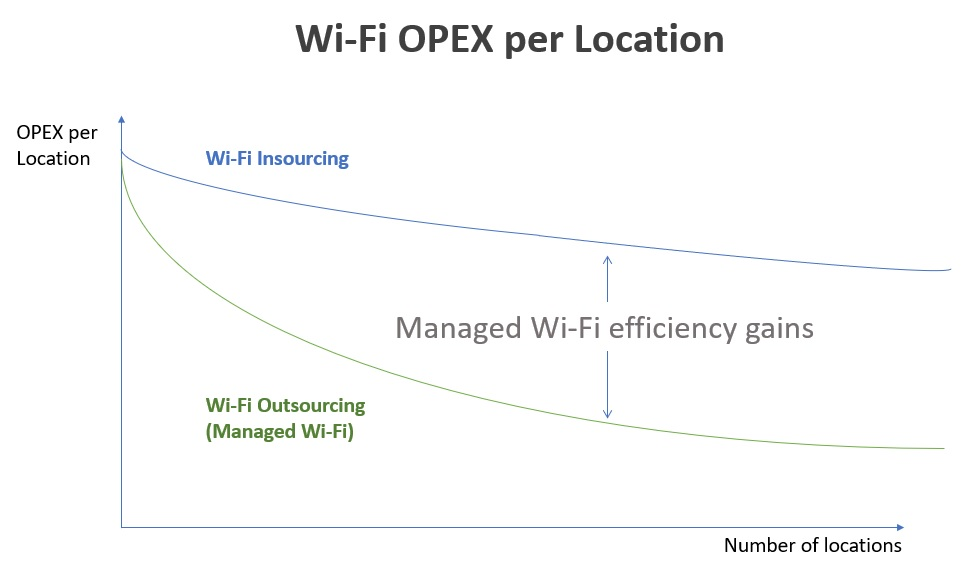 Benefits of outsourcing Wi-Fi management for retail and restaurants
Retailers and restaurants that decide to outsource the management of their Wi-Fi infrastructure to a trusted Managed Services Provider (MSP) can reap the following benefits:
Cost savings: These cost savings are realized from efficiency gains provided by the MSP managing multiple locations, reduction of network downtime and enabling IT staff to focus on other essential functions.
Decreased risks: The MSP ensures the infrastructure is secure, up-to-date, optimized and meets the business requirements. The workload and risks previously assumed by internal IT teams diminish significantly.
Improved quality of service: A Wi-Fi network which performs optimally for both staff and guests.
Increased flexibility to introduce new applications that will impact the bottom line, such as real-time client-engagement solutions, which some MSPs may deploy when they have a development team ready to innovate on customer requirements.
What to outsource?
While it has been a common practice for some time to outsource certain key IT functions, such as cloud storage, businesses are now looking to leverage further benefits offered by outsourcing to managed IT services companies.
Indeed, the outsourcing of Wi-Fi management ranks high on the agenda for businesses with multiple outlets, as such a move enables an organization to focus on its core business while a dedicated service team focuses on technology deployments, updates, support and security. Such a solution provider can offer round-the-clock management expertise and customer care, as well as on-hand RF expertise.
Outsourcing to a managed service provider doesn't automatically mean the customer no longer has visibility into or control over their Wi-Fi network. Cloud-based solutions are tiered, allowing customer flexibility: to completely outsource, or maintain some access into viewing and overseeing their network.
Conclusion
With the expectations today that Wi-Fi should always be available, cost-effective, secure and simple to use, the adoption of the "utility model" for managed Wi-Fi may represent the easiest path for retailers and restaurants to grow and leverage their wireless networks without spending time worrying about (and dealing with) the details. Retailers and restaurants can then focus on their core business and improve their bottom line.
Related Articles: