Retail and restaurants are the most dynamic and promising sectors for wireless technologies and Wi-Fi. The entire concept of the omnichannel experience aims at creating a consistent journey for the consumer throughout a more personalized shopping experience.
In retail, the ease and convenience of online shopping has changed consumer expectations for brick-and-mortar stores. Physical stores remain a critical part of the purchase journey, as customers can see, touch, and try out merchandise without having to wait for products to be shipped and often enjoy the physical shopping experience. Today, in-store shoppers are using mobile devices to compare prices, research products, and access social media. Accordingly, retailers are starting to realize that their customers want to get connected, and that allowing them to do so can help further enhance their shopping experience.
To satisfy this demand, retailers are now providing free and secure in-store internet access. With so much in-store mobile usage, retailers want to make it as easy as possible for their shoppers to connect to guest Wi-Fi. They also incentivize shoppers through loyalty programs and real-time promotions, as well as keeping mobile websites updated with current product information and offers. Surprisingly, a majority of retailers are not up-to date with their technology infrastructure, but plan to make major updates in the next two years as shown in the figure below, which highlights their need for assistance from an MSP:
Status of In-Store Technology Plans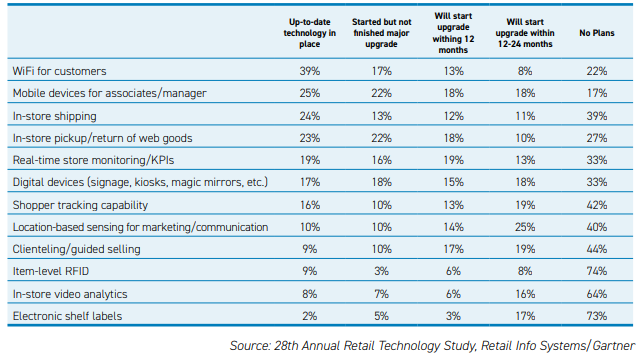 Retailers are increasingly realizing that analytics can empower them to understand what inspires consumers to act. This understanding drives loyalty, and ultimately provides them with a competitive advantage.
With over 90% of sales still occurring in physical locations, retailers remain central to the success of global retail. The rise of sophisticated omnichannel retail strategies has demonstrated that brick-and-mortar stores are an integral part of the consumer experience as well as remain relevant, and guest Wi-Fi is the bridge that connects the physical and digital worlds.
The Challenges Facing Technology Teams
In the restaurants and cafés category, similarly to hotels, offering amenity Wi-Fi has become a necessity and is expected by guests, especially in chains and fast food cafés and restaurants (Quick Service Restaurants, or "QSR") who are the category leaders in deploying Wi-Fi. In fact, lack of skilled in-house IT resources is one of the major challenges for restaurant IT teams as shown in the 2018 Restaurant Technology Study: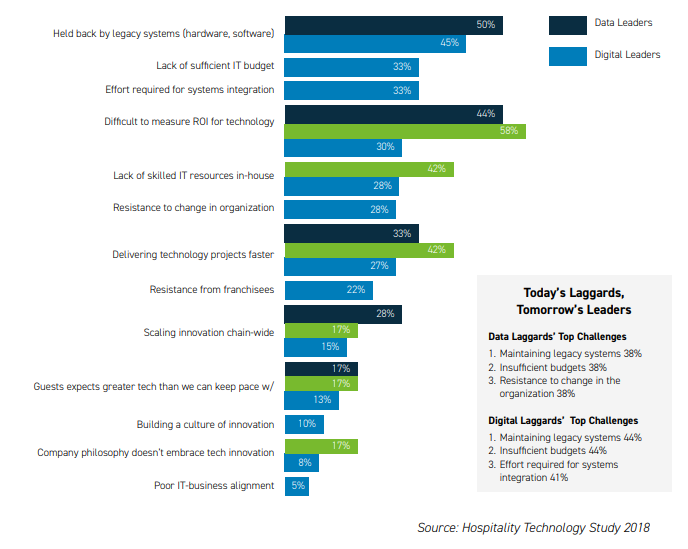 This makes the case for restaurants to increasingly outsource aspects of their technology, including Wi-Fi to their trusted MSP.
Benefits of Managed Wi-Fi For Retail and Restaurant Chains

Retail and restaurants are not equipped with IT resources to deal with the large number of Wi-Fi users' requests and rapid evolution. The diversity and proliferation of devices, range of operating systems, security threats, new business requirements, technology lifecycle, and upcoming IoT all represent a challenge for understaffed and budget-stretched IT departments.
In particular, large chains of retail stores and restaurants are increasingly resorting to outsourcing the complete management of their Wi-Fi access and infrastructure to MSPs in order to refocus their attention on managing their core business and enjoy great economies of scale.
Related Articles: