Unlike previous generations, unlicensed spectrum technologies will play a major role in 5G. There are two main definitions of 5G. The first is a narrower one: a set of radio specifications defined by 3GPP, which will form the basis of official 5G standards for the 5G new radio (NR). The second one is broader where 5G is defined as being a far more expansive platform, encompassing multiple radio access technologies (RATs), integrating with wireline connections and supported by new network architectures built on virtualization and software-defined networking (SDN).
As such, 5G will build on technologies and architectures which have been evolving in the unlicensed spectrum world, especially in Wi-Fi, as much as in cellular. Some of the key enablers of 5G networks have been pioneered in the Wi-Fi community, such as the millimeter wave spectrum (WiGig in 60 GHz) and dense virtualized networks (carrier or enterprise Wi-Fi networks built around centralized, software-based controllers).
While cellular-based 5G will support unlicensed LTE (MulteFire) and shared spectrum (such as CBRS), Wi-Fi has been moving in the other direction, taking on many of the characteristics of cellular technologies such as enhanced quality of service, security, and other features. As the lines between licensed and unlicensed spectrum blur, Wi-Fi will evolve alongside cellular to be part of the broader 5G platform, bringing 5G-like capabilities to non-spectrum owners, such as large venues and private network providers. As the figure below indicates, the gap between Wi-Fi and 5G technologies is narrowing with both technologies targeting low-latency use cases, such as industrial automation and private networks that benefit from distributed architectures, edge computing, and network slicing.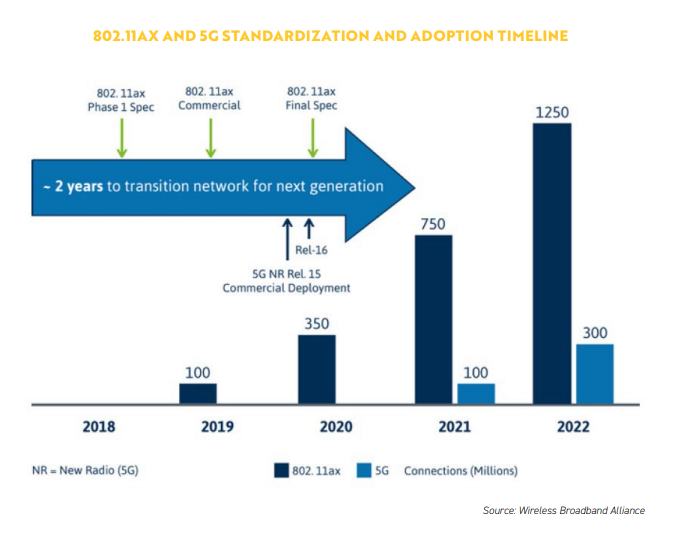 The broad ecosystem of enterprise devices, equipment, and software that utilize Wi-Fi will help to reach these critical requirements more quickly than using cellular alone, especially for indoor usage. To understand what role Wi-Fi can play in the 5G platform, the best thing to do is to look at what Wi-Fi is great at.
The Wireless Broadband Alliance (WBA) has identified areas where 802.11 technologies outperform the base requirements for IMT-2020 (5G), and ones where future work will be needed to bring Wi-Fi into line with 5G cellular. Wi-Fi can outperform the IMT-2020 requirements related to area traffic capacity and latency. But while network efficiency values are above those associated with IMT-Advanced, they do not meet the target requirements for IMT-2020.
This is summarized in the figure below, with each technology having its own strengths and weaknesses.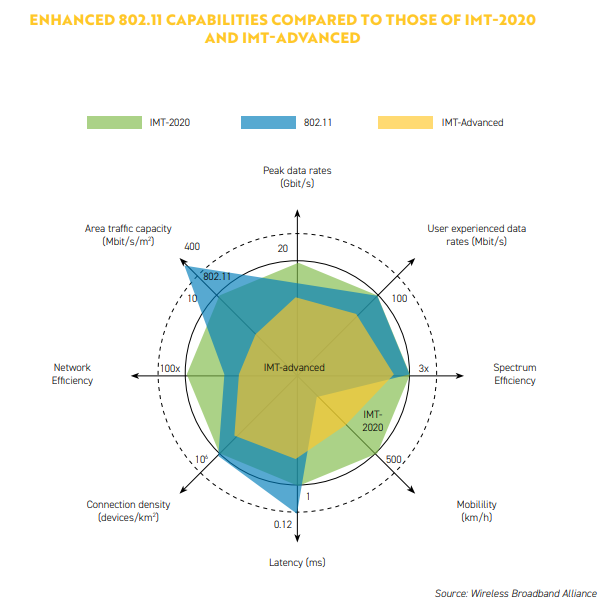 For indoor applications in the enterprise, data rates, latency, density, and throughput are more relevant than mobility, and there is little justification to use cellular-like technology inside the enterprise, at least not for data applications. DAS or macro base station repeaters are often used to provide voice coverage (often deficient indoors), but those are expensive propositions. Therefore, voice over Wi-Fi or Wi-Fi calling is increasingly used to service this need.
Wi-Fi has a role to play in the 5G vision, one that leverages its formidable existing indoor footprint and ecosystem. But it cannot get too comfortable, as new LTE-based technologies will increasingly compete for a share of usage in the unlicensed spectrums.