Much has been written about the benefits of managed Wi-Fi solutions for restaurant guests and patrons, and about the ability to generate contextual marketing to support omni channel strategies. However, a stable and secure managed Wi-Fi network provides a long series of benefits to restaurant staff members and contractors as well. As we will see in this article, quick-service restaurants (QSRs) and full-service restaurants are embarking on their own transformation to become more effective and productive thanks to Managed Wi-Fi. This journey includes a number of improvements, as well as automation in many processes, from food ordering to employee communication, and all require a solid Wi-Fi foundation. 
Wi-Fi to Empower the Restaurant Staff
Restaurants have to deal with a number of challenges, one of the primary ones being high employee turnover. Restaurant owners and managers spend a lot of time training people, and months (or even weeks or just days) later, many of those employees simply walk out of the door. As a result, restaurants are working to identify the tasks that make employees quit and using managed Wi-Fi solutions to automate or reduce those "boring" and repetitive tasks in order to increase employee satisfaction and retention. 
Restaurant managers interviewed for the 2019 Restaurant Technology Study indicated that staffing and labor management remains the top target for more data and insights enabled by technology. This finding validates the importance of staff insights being at the center of technology decisions as indicated in the chart below.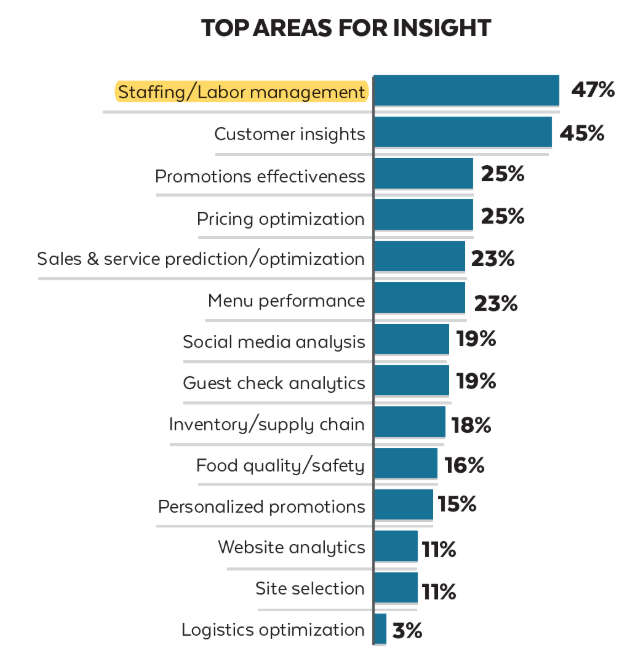 Source: 2019 Restaurant Technology Study.
Staffing/labor management insights include any data related to staff presence, productivity, and/or performance. Labor management can also include training tools, such as rules and regulations and company employee policy or frequently asked questions available with one click.
There is no question that a restaurant's front-line staff has a significant impact on the customer experience. Therefore, restaurants are wise to ensure that their employees are properly equipped with the appropriate tools to execute their duties and be satisfied with their workplace. These employees are the face of the brand and can make or break the customer experience.
Wi-Fi Online Training & Education
When an employee is initially hired, there is no question that training can be a tedious, time-consuming, and labor-intensive process. Training requires multiple hours of an owner or manager's time as they trudge through company rules, regulations and specific tasks. However, onboarding new employees can be easily automated thanks to Wi-Fi, via short training videos or even virtual reality software; new hires are able to attend training sessions and even tour a facility virtually.
Further, new hires can utilize games and other interactive programs for training content, making the training experience more enjoyable for the employee, as well as reducing the requirements of management, since employees can complete training programs off-site via Wi-Fi.
Scheduling & Time Sheets
In these times, it is imperative that restaurants are able to communicate efficiently with employees regarding scheduling (i.e. utilizing app notifications or an automated text messaging system). These apps allow employees to communicate directly within the app and, for example, swap shifts, request and schedule vacation days, and efficiently and immediately effectuate other scheduling tasks—all resulting in better and faster scheduling and more satisfied employees. For example, staff presence and whereabouts can be automatically detected once they enter the work premises, thanks to Wi-Fi. This enables timesheets to be automatically entered and kept up to date.
An efficient way to reach employees these days is mobile messaging. It more or less ensures that an employer's message will be read immediately. However, it is important to understand that this instant mobile communication can easily be automated. Owners and managers can simply schedule texts, as well as utilize automated templates, to respond to employee questions, and even segment employees into groups if necessary.
Impact of Wi-Fi on Business Processes
A solid managed Wi-Fi network is also the foundation on which to build smooth business processes. Wi-Fi can be used to overhaul a unified telephone system; Voice over Internet Protocol (VoIP) and other internet-based communication technologies allow restaurants to effortlessly route and re-route calls, even if a key member of the team is on the go. They scale up easily for growth and can be leveraged to take advantage of geographically distributed teams. In case something goes wrong, they offer a high level of redundancy to keep a business connected to its customers. Enterprise-grade Wi-Fi is also the backbone of all of the following business processes: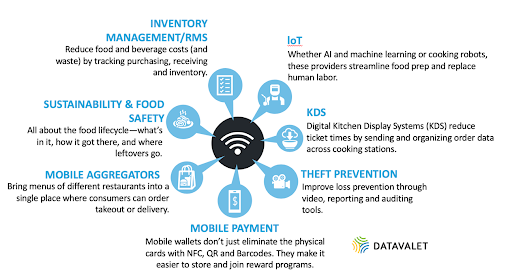 Source: Datavalet
Wi-Fi to Streamline Customer Orders
Enabling customers to order through managed Wi-Fi helps employees be more efficient. For example, interactive, self-serve menu kiosks are popping up in many quick-service restaurants, enabling a more efficient way to order and pay. These kiosks can reduce wait times and have been shown to improve order accuracy as well. As technology continues to evolve and get smarter, these kiosks will be able to recognize the consumer, offering up customized menus based on individual preferences. 
Further, digital signage continues to evolve, enabling restaurants to quickly customize and react to changing customer expectations. The cost of digital signage has dropped significantly, while the creative use cases for digital signage have dramatically increased. No longer do they provide just menu items; digital displays are now an extension of the brand and a messaging platform.
An example is fast food giant McDonald's, who is currently adopting new digital menu displays that feature things like changing menus depending on the time of day or depending on the weather to increase incentives to purchase certain foods. 
Allowing customers to pre-order via their smartphones is another form of automation. Instead of waiting in line inside the establishment or in the drive-thru, customers place their orders and pay on a mobile app, reducing the task volume for cashiers.
Major food chains already leverage mobile power to optimize their order and pay operations. Starbucks is one of the pioneers of this technology, allowing customers to pre-order and pay for their coffee, and simply pick it up at their preferred Starbucks location. The popularity of that program (a full 30% of all their payments now come from mobile) inspired other chains to adopt it. McDonald's is scheduled to introduce mobile order and pay in 20,000 locations worldwide in 2019 (source: QSR Magazine).
Conclusion
Digital transformation is imperative for survival in today's economy, and restaurants are no exception. Restaurants turn to managed Wi-Fi solutions to support the growing use of cloud-based services and to automate their processes. As we saw in this article, these new tools which empower their customers and employees, require a solid Wi-Fi foundation to work smoothly.
Original article can be found at RCRwireless.com